Ethereal Paintings
by Hillary Serota Needle Celebrate Softness in Nature
'I enjoy painting florals and landscapes because it's the purest thing out there, and yet it's the most complex.'
On her 50th birthday, Hillary Serota Needle's father gave her four gifts: an easel, a canvas, tubes of paint, and a set of paint brushes. It was time to start painting, he said. "When I was young, I would sketch," says Serota Needle. "But I didn't have any formal training…I loved art and appreciated it, but didn't pursue it."
That all changed about two years ago when Serota Needle's father—a painter himself—felt it was time she put her creative thoughts down on canvas. "He's always pushing me to pull something out of my head," she says. But it's not just Needle's father who inspires her. Both her grandmothers were artists–her maternal grandmother was a member of the famous Salmagundi Club in New York, whose members at one point included Norman Rockwell and N.C. Wyeth. Serota Needle herself is the owner of a well-known events planning company in Long Island, which keeps her creative schedule full.
But Serota Needle still carves out time to make art—even when she's relaxing. During a recent trip to Ireland, Serota Needle started her first series of paintings inspired by the Emerald Isle. "Irish Rose" came first, a white flower floating in a bed of soft green moss. Then came "Powerscourt Secret Steps" and "Ashford Castle Arch." All three are tied together with soft, ethereal brushstrokes and the muted gray and green colors of Ireland.
After that trip, Serota Needle became entranced by landscapes filled with flowers, butterflies and lakes. Her painting sessions focused on capturing the essence of the natural world in a very different style from her artist father. "I couldn't say stylistically how he's influenced me," she says. "It's more the inspiration just to do it."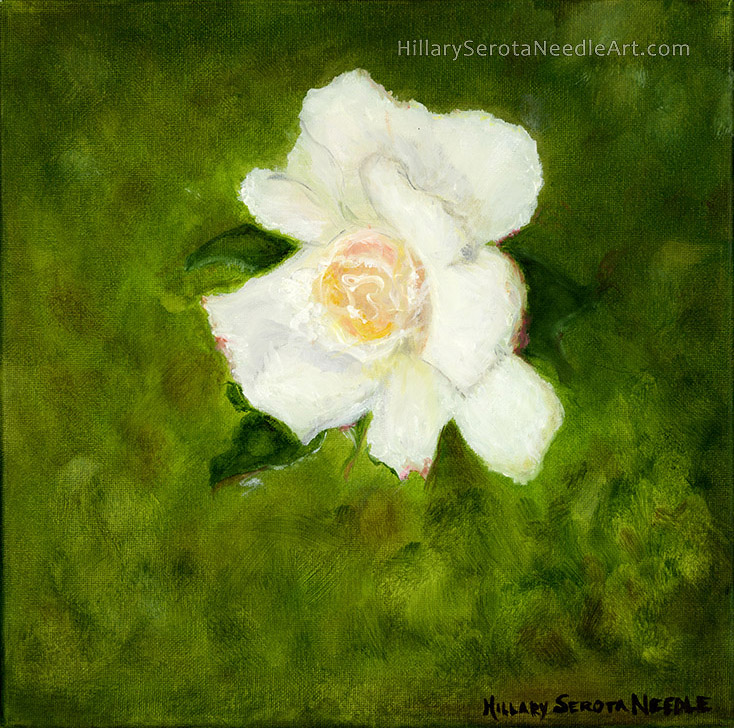 Needle's 'Irish Rose' is the first work in the artist's Ireland-inspired paintings
When you started painting, what was it like for you?
I went right for it. My process then, as it is now, I take a photograph. From that photograph, I paint. So my first—I call it my first born—was a white rose that I took a photo of in Ireland when I was there.
Does Ireland hold any special significance for you?
Not really, I was just on vacation. But my first batch of paintings were inspired by that trip. "The Powerscourt Secret Steps" was taken from a really cool photo from the Powerscourt Estate in their Japanese garden.
The Japanese garden in the Powerscourt Estate, Ireland, inspired Serota Needle's 'Powerscourt Secret Steps'
What is it about flowers and nature that inspires your work?
I enjoy painting florals and landscapes because it's the purest thing out there, and yet it's the most complex. There are so many different nuances and ways to explore with the paint.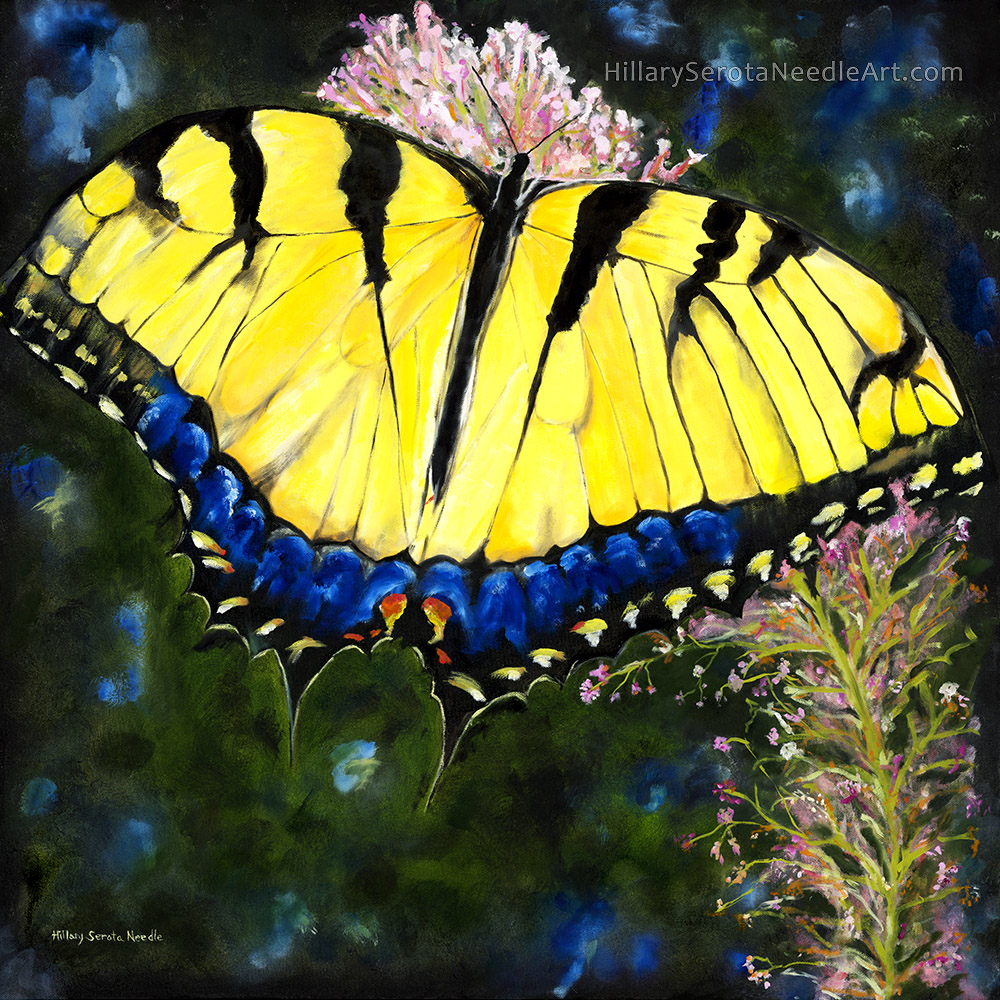 'The Fertile Void' by Hillary Serota Needle
How do you feel the oil paint helps you do that? Have you tried other kinds of paint?
HN: I have tried acrylic which dries really quickly. What I like about oil paint is that it takes some time to dry. So if you do want to go back and rework something you have the flexibility to do so. But on the converse side of that, you have to have patience. When you get to a point in a piece, you have to let your layers dry before you can go back and add more. That's what's so frustrating to me is that I have to learn all this patience. If I'm in the zone and I want to keep working—sometimes I can't because it just turns to mush.
How do you sustain your creativity through that?
HN: It comes in fits and starts. There are certain times of the year that I'm really busy and it's harder to find that mental space and other times it's a salvation, so it really depends. I try to organize myself in my head. I'll say, "OK, it's Sunday, and I'm going to paint from 2-4:30," knowing that I've carved that time out in my day. That's my time to paint.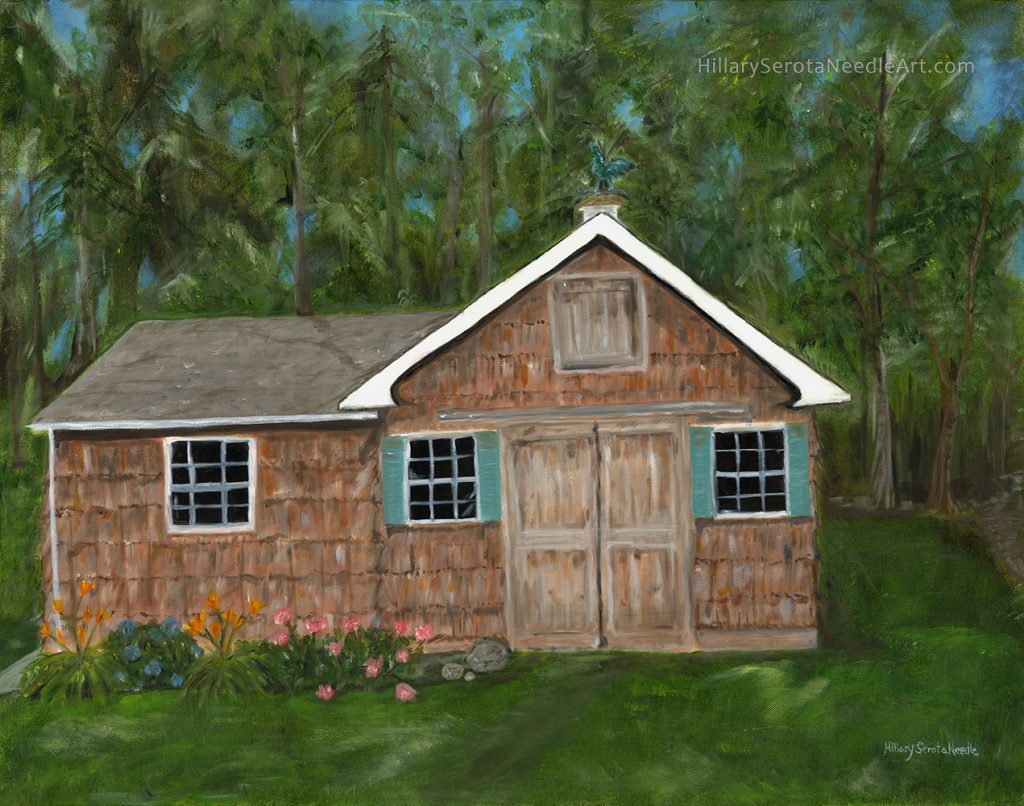 Summer Barn' by Hillary Serota Needle
What happens after you finish the painting?
If I ever chose to do some limited edition giclee prints, I want to have a digital file. And for when they're sold, I always want to have a permanent digitized record of the piece. I don't photograph my artwork, except with an iPhone sometimes. I don't do anything fancy because I don't have to. As soon as the paint is dry, I make an appointment with Chica. And then I have these great [digital] images for when I want to submit to a show.
For giclees prints, commissions, or other sales, please contact Hillary directly. To learn more about scanning and giclee printing, please contact us here or visit our blog.
Need your artwork scanned? Contact us for quotes and more information.
Share This Story